Def Leppard have issued the following update:
"This year, we want to do something special on Steve Clark's birthday. As most of you know, Steve was Def Leppard's co-founding guitarist from the late 70s to 1991, and would have turned 51 on April 23. Unfortunately, Steve passed at the age of 30 from an accidental overdose of prescription drugs and alcohol.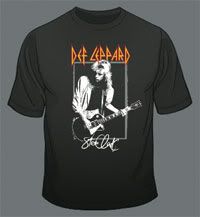 To pay tribute to Steve, we are releasing a special t-shirt soon. This shirt, of which you can see the design on the left, will only be available through Def Leppard's online store, and only for a very limited time. Also, in order to keep it exclusive, we will only produce the shirt in limited quantities. To be sure that you get your shirt, please enter your email address here. This will guarantee that you will be notified first as soon as we take orders, and you won't miss out."