We at Vulgar Display Of Blog can confirm that Motley Crue will tour the US and Canada with Poison and the New York Dolls. We believe this will be CrueFest 3 but we cannot verify that at this time. More info will be revealed soon.
Update: A album release sheet from Fontana North Distribution reveals that Motley Crue, Poison and New York Dolls will tour Canada in the summer of 2011. New York Dolls will be touring in support of their March 15 release 'Dancing Backwards In High Heels'.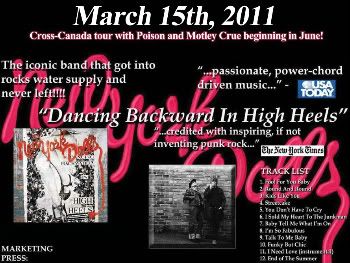 New York Dolls guitarist Sylvain Sylvain spoke to www.JoeMatera.com and revealed his band is performing on a US tour with Motley Crue this summer. Here is an excerpt from that interview:
"Unfortunately, Frank won't be joining us for our upcoming tours basically because he wants to make some of his own records as he has had some good offers and so wants to pursue those. And we're about to go on the road for 40 nights with Motley Crue this coming June-July in the States, and that's a lot of work and so he chose not to be there. But we made some calls and now we finally have got Earl Slick playing guitar. So Earl's going to be joining us for the upcoming tour. He's the newest member of the New York Dolls, if I can put that right now."